Táncház literally "dance house" is a "casual" Hungarian folk dance event (as opposed to stage performances). It is an aspect of the Hungarian roots revival of traditional culture which began in the early 1970s, and remains an active part of the national culture across the country, especially in cities like Budapest. Táncház draws on traditions from across the regions of the Kingdom of Hungary (most notably Transylvania), especially music and dance. The term is derived from a Transylvanian tradition of holding dances at individual's homes.
The táncház traditions were recreated as authentically as possible, a process aided by fairly detailed research on Hungarian culture. The movement is composed of numerous informal groups. Since the 1970s, non-ethnic Hungarians living in Hungary have had their folk traditions treated the same as their Hungarian neighbors.
" Perfect event to socialize, to try something new or just to enjoy the beutiful Hungarian folk dances and music."
Many years of diligent workmanship has now produced it's results. It does not take a few months today for a Hunique folk dance event to take place in London. Many thanks to the great community. I organize the Táncház (Dance Houses) on a voluntary basis. My goal is for the community to have the opportunity to cross this great Hungarian folk culture. The London Dance House is an event where we can find a family far from our Hungarian country. I'm pleased to be the ambassador of Hungarian culture here in Britain.
We start the Dance House with a dance workshop, where everyone can join to get a taster dance lesson of one of the Hungarian folk dance.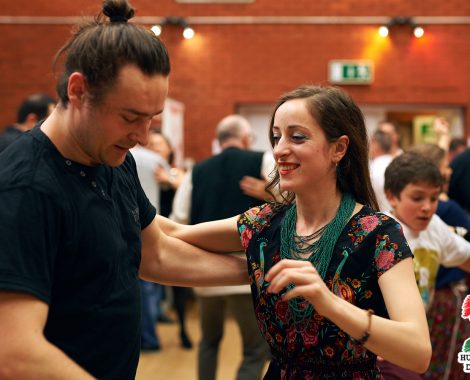 After the dance workshops the Folk Band plays music from different Hungarian regions of the Carpathian Basin (historical Hungary)
So the guests have the opportunity to try out the previously learned dances.
People who are already familiar with dances, they dancing at the front of the band.
Very important to bring the original traditions to our events. 
A Dance House could not happen without live music.  Our regular band is the Folktone from UK, but Hunique  often invites guest bands from the home land of  Carpathian Basin as well. 
The best way to explore the beauty of Hungarian folklore to attend at Táncház London!