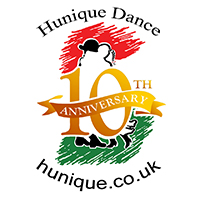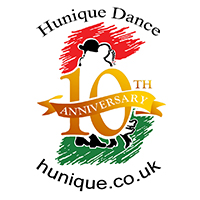 10 years of Hunique Dance!
'Lads and ladies spin around, see Hunique's stars dance tonight'

The London-based Hunique Hungarian Folk Dance Ensemble is celebrating their 10th anniversary this year with an Unforgettable Spectacular dance show at Shaw Theatre in Central London on the 16th of November 2019.
Come along, be part of the celebration and enjoy the virtuoso dancers dynamic performance!

The entertainment and Hungarian virtuoso-filled spiritis guaranteed!
Hunique Dance is inviting you to join of their 10th anniversary. Come and join us, be part of the celebration!
It's a unique show, with more than 90 dancers and 5 musicians on the stage! 
During a two hour long show with an interval in between, Hunique is bringing to life a colorful collection of traditional Hungarian folk dances, driving their audience through the 10 past years of their dancing group within the walls of the glorious setting of  the Shaw Theatre. The show will be even more sparkling with two special guest groups on stage: Mazury Polish Dance Company and Csillagszeműek Anglia Ensemble.

During the Anniversary Show, the Folktone Band plays live authentic folk music.

Info:
There will be a clockroom in operation for 2gbp/ item.
Buffet will be open before the show and during the interval.
Free parking on the streets on the day of the event.
Don't hesitate, purchase your ticket and enter to a world of vibrant, virtuoso and exciting music & dances! The entertainment and Hungarian spirit is guaranteed. 
Tickets on sale now! 
Hunique is looking forward to seeing you there!   
Date: 16th November 2019
Time: 18:00
Venue/address: Shaw Theatre
100-110 Euston Road
London NW1 2AJ
Interactive information on facebook: Click here
Created with the support of the Hungarian Government.
Megvalósult a Magyar Kormány támogatásával.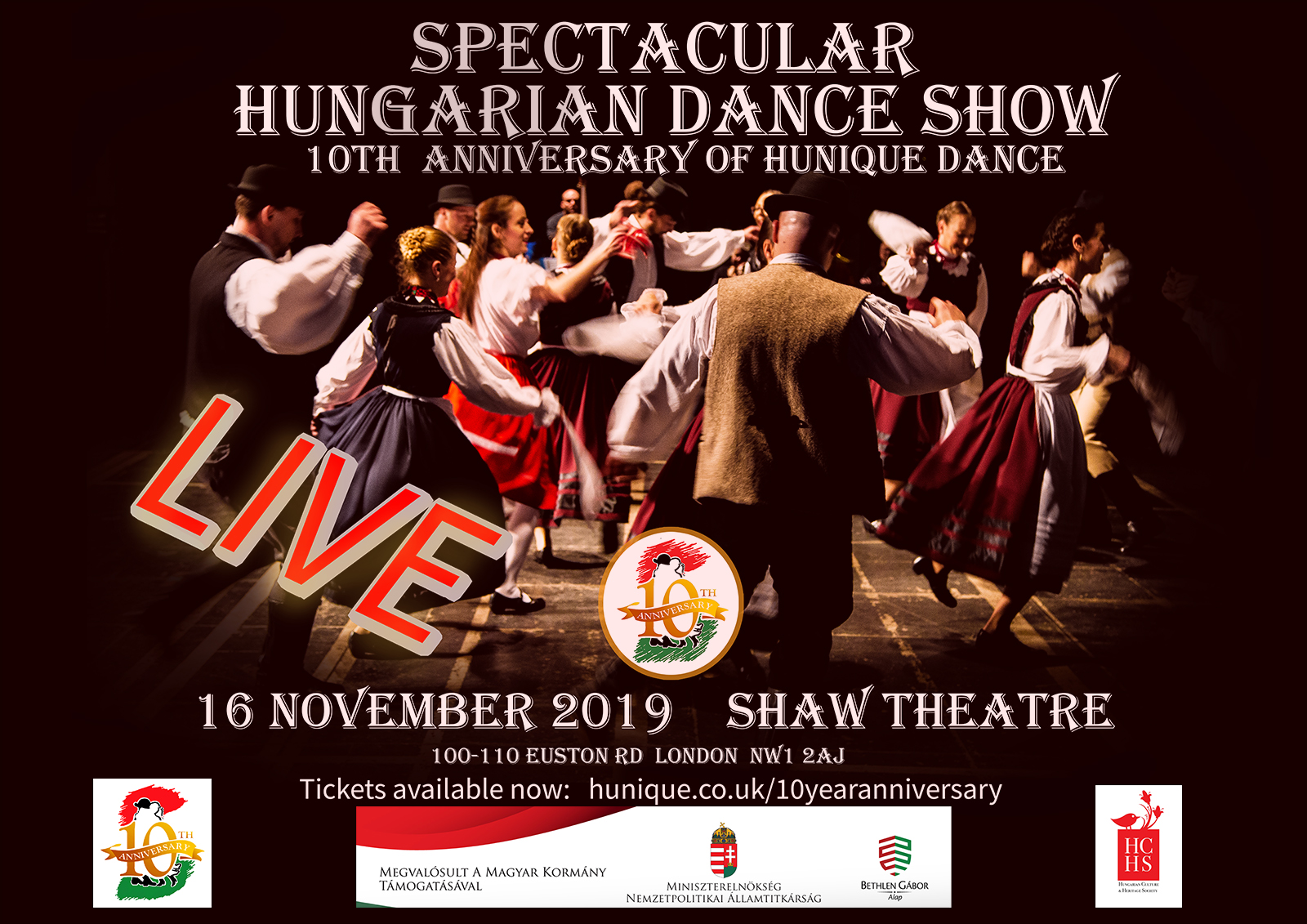 INVITATION
'Lads and ladies spin around, see Hunique's stars dance tonight' Hunique Dance Ensemble, a London based Hungarian folk dance group, is celebrating it's 10th anniversary on 16 November 2019 with a spectacular theatre performance at Shaw Theatre in Central London.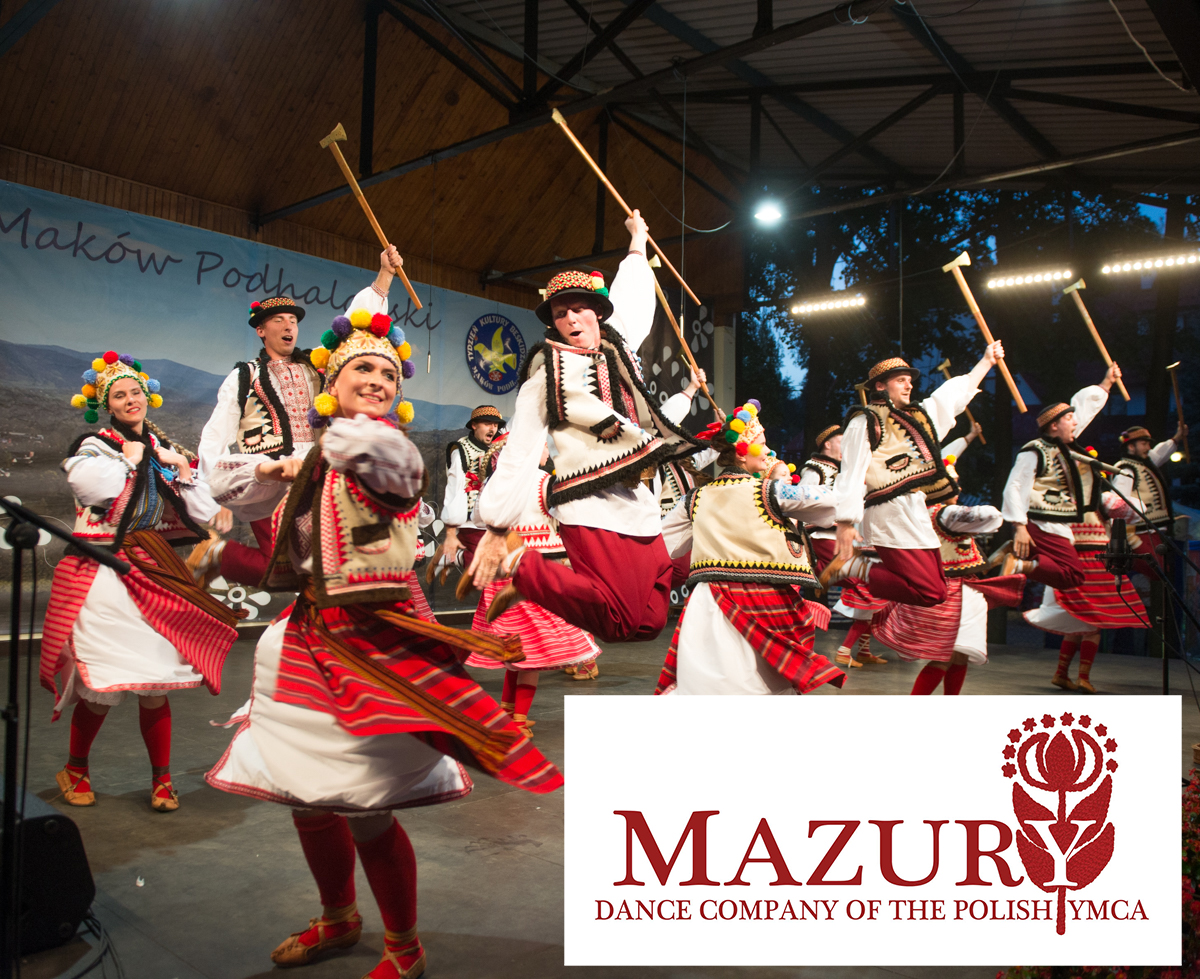 Mazury Polish Dance Company
The 70 years old Mazury group is an old friend of Hunique. They were happy to take part of the anniversary show as a special, polish folk dance group.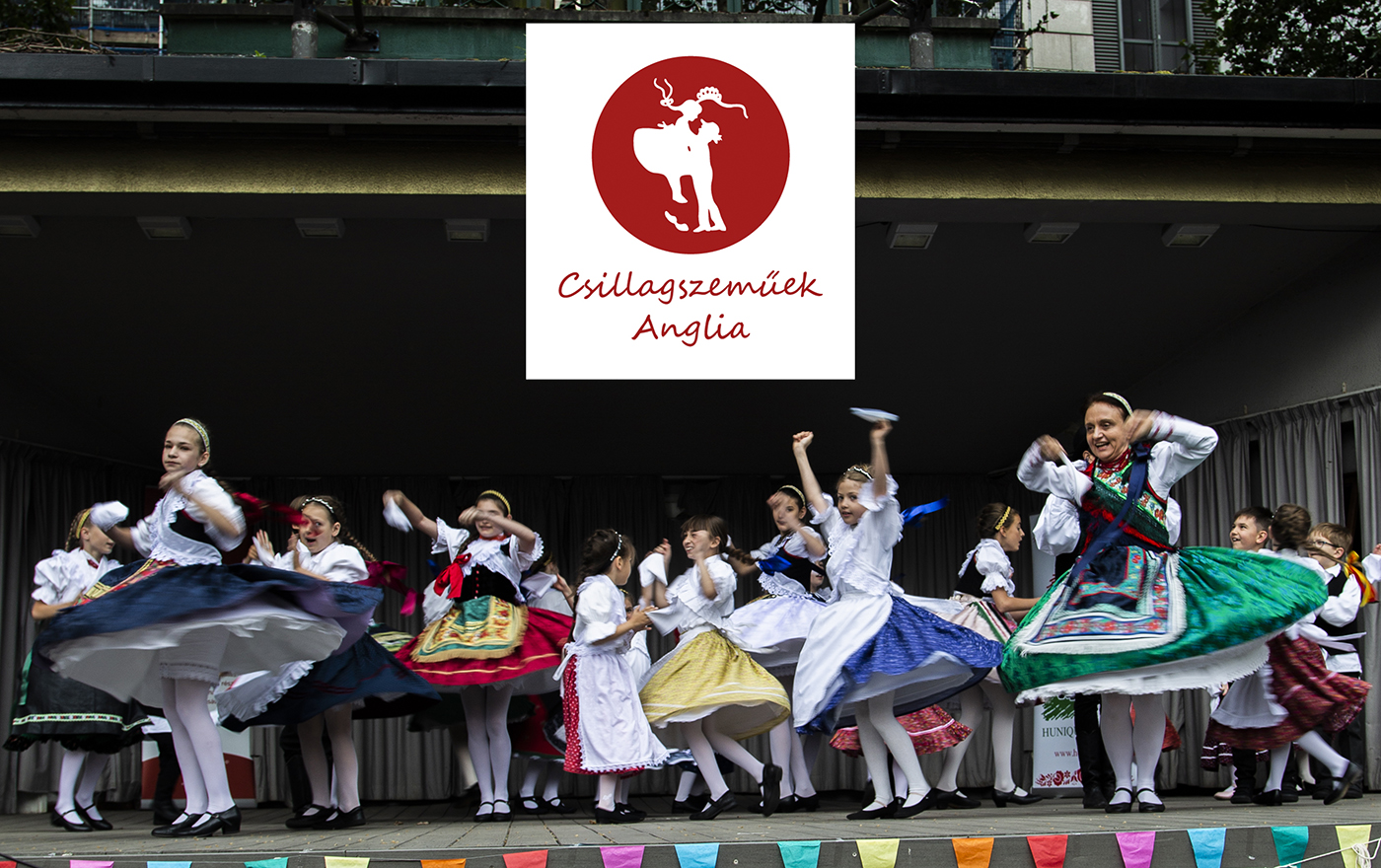 Csillagszeműek Anglia
Hungarian dance ensemble. Members of the group are mainly youngs and children. They take part of Hunique's anniversary show with co-operated dances and with a single performance as well.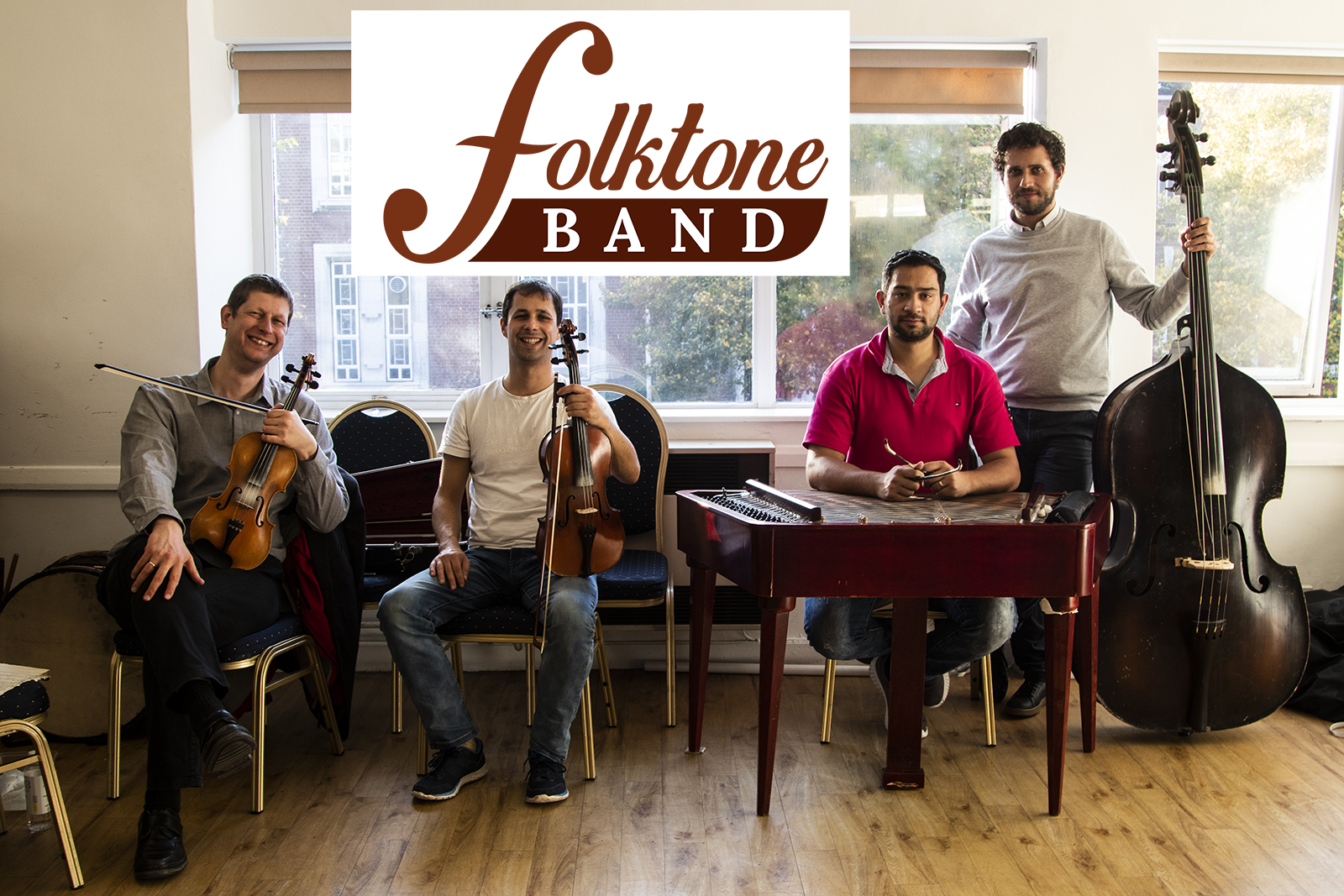 Folktone Band
During the night the UK based folk band play the live music on the show.
About Hunique
Living in a foreign country makes especially important to be part of a community that cherishes our traditions and celebrates common roots. In London, Hunique Dance Ensemble has been playing a significant role not only with its existence as a folk-dance group but with all the colourful programs organised since the foundation years, addressing all ages and backgrounds. 
Hunique Dance was founded in 2008/2009 by some good friends for their own entertainment. Ever since our aim is to enable Hungarian people in London to practice and celebrate their cultural identity and share our values and colourful traditions with all the other nations living here. In the past 10 years we've been organically growing, stretching our comfort zone, widening the list of activities and step by step introducing Hunique to a greater community in the UK.
The active membership, that counts about 70 people, is attending rehearsals three times a week on a beginner, intermediate and on an advanced level. 
We are kindly inviting you to our 10-year-anniversary performance on 16th November at Shaw Theatre in Central London.
You can purchase tickets at the Shaw Theatre's website: https://www.shaw-theatre.com/whats-on/the-10th-anniversary-of-hunique-dance 
More informations about Hunique Dance: http://hunique.co.uk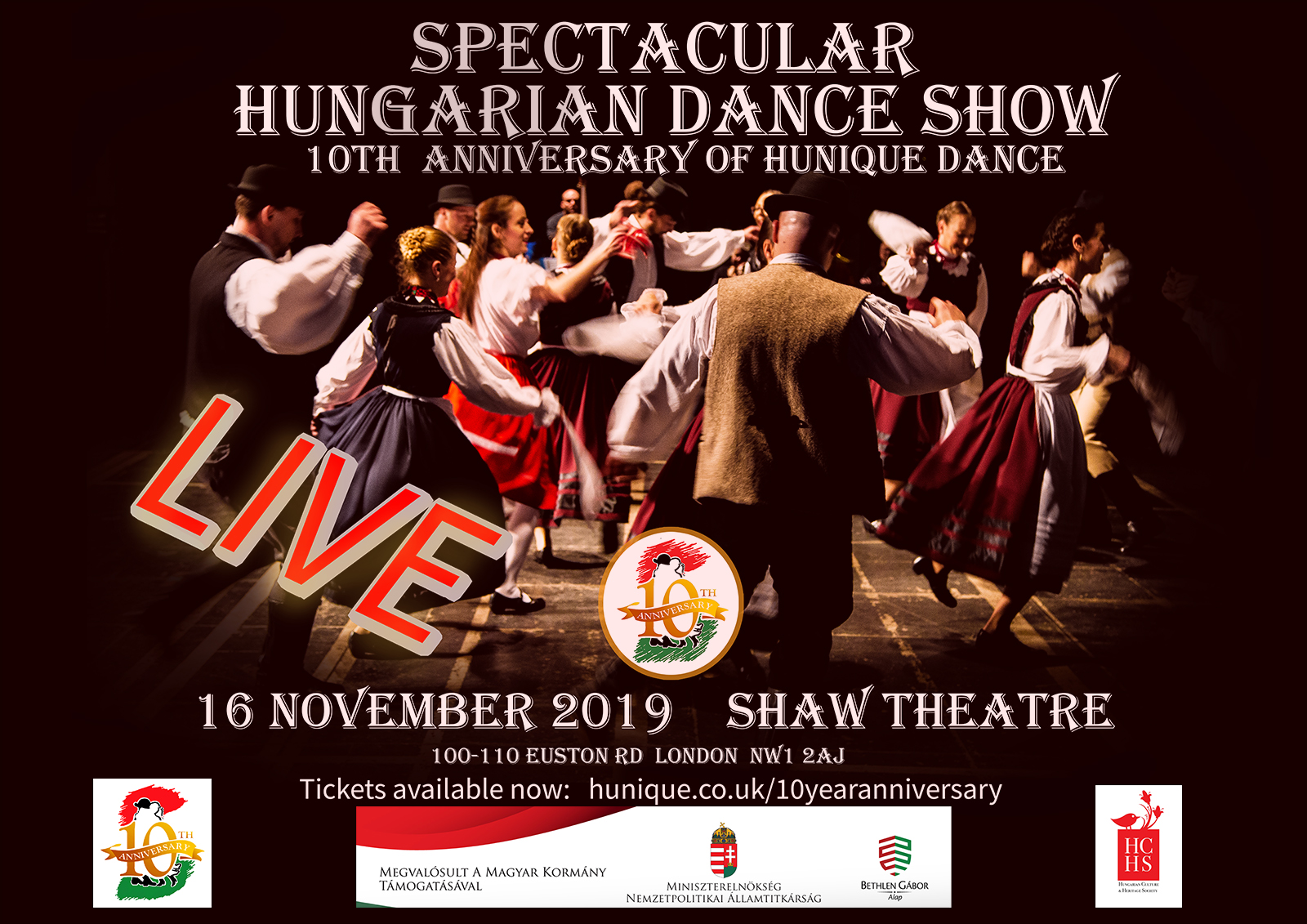 Donations show appreciation
Living in a foreign country makes especially important to be part of a community that cherishes our traditions and celebrates common roots.
This time we need your support.
Being a fully run-by-volunteers charity we highly rely on your support to make our West End dream come true.
Thanks in advance for your contribution to this cause that means so much to us
You can donate us here:
CLICK HERE – Go Fund Me website to Donate Hunique Dance